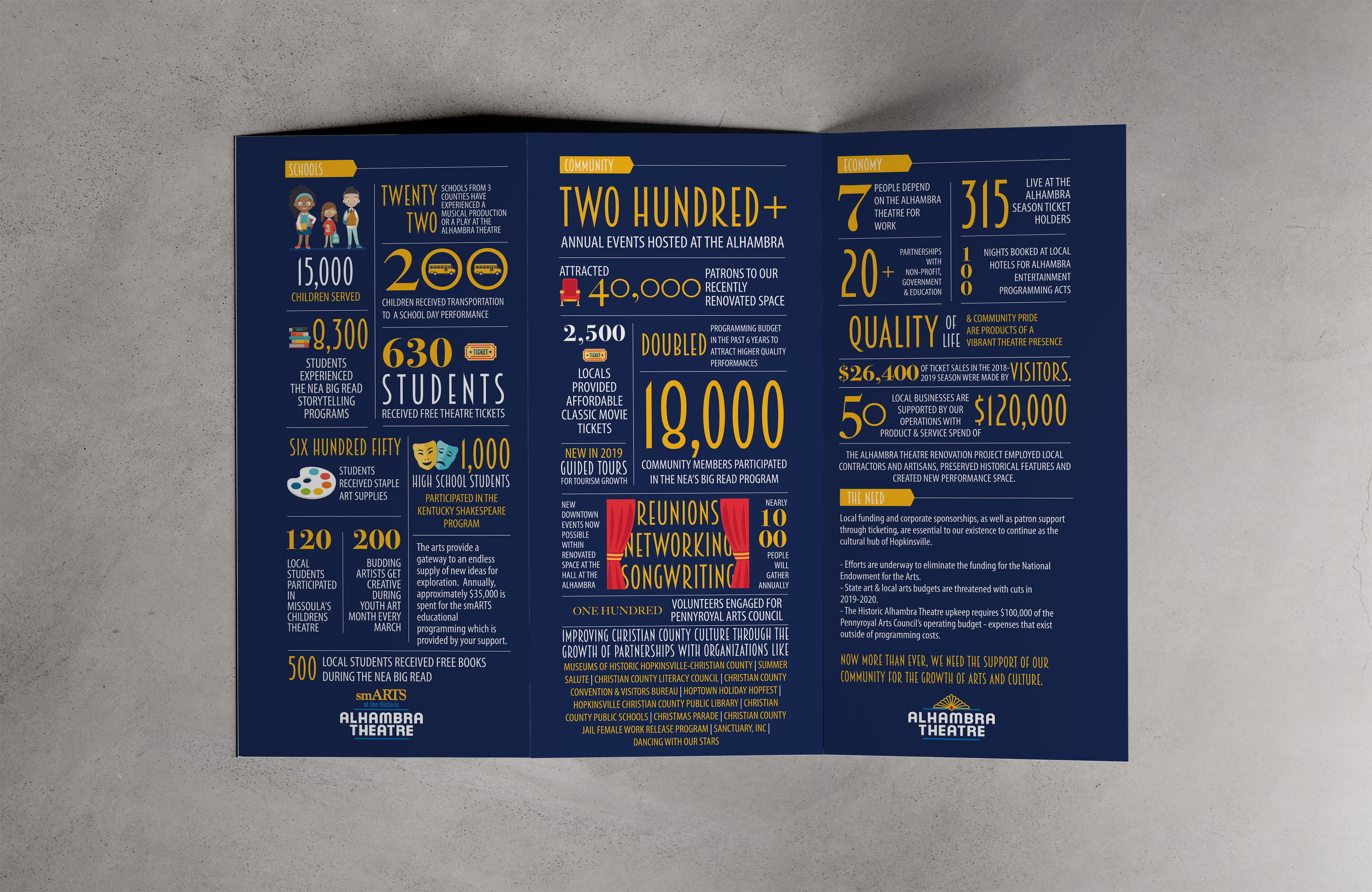 The Pennyroyal Arts Council has had quite a year. This time last year, the group that manages the historic downtown Hopkinsville Alhambra theatre was in the midst of a complete renovation. In late 2018, the Alhambra theatre once again opened its doors, bringing with it a completely new look that brought back some of its original architecture and offered additional arts programming opportunities to the Hopkinsville community.
Over the past several months, the Pennyroyal Arts Council has settled in to the new space and has seen tremendous growth and opportunities not possible previous to the renovation. The staff took a look at actual impact to the community in preparation for the non-profit's annual fund drive; we got the opportunity to join in on crafting a brochure and graphics to help communicate that message.
With three main focus areas – schools, community and the economy, the Arts Council outlined some of the benefits it brings to Hopkinsville and Christian County. We were just lucky enough to get to help present the data in a fun, visually appealing and easily consumable format. We created the brochure that would be distributed to stakeholders, visitors, and now supporters of the arts during the 2019-2020 annual fund drive. Then, we created campaign graphics to help support that message to be used in presentation and social media marketing.
The Pennyroyal Arts Council has made it easier than ever to give. If the community impact the theatre and programming have are important to you, you can click here to donate online. In addition to funding ongoing operations, the Arts Council has available opportunities through the capital campaign (you may remember we helped create the campaign collateral). Visit pennyroyalarts.org to learn more about the Pennyroyal Arts Council's impact on our community, upcoming programming, and more ways to get involved in the arts.