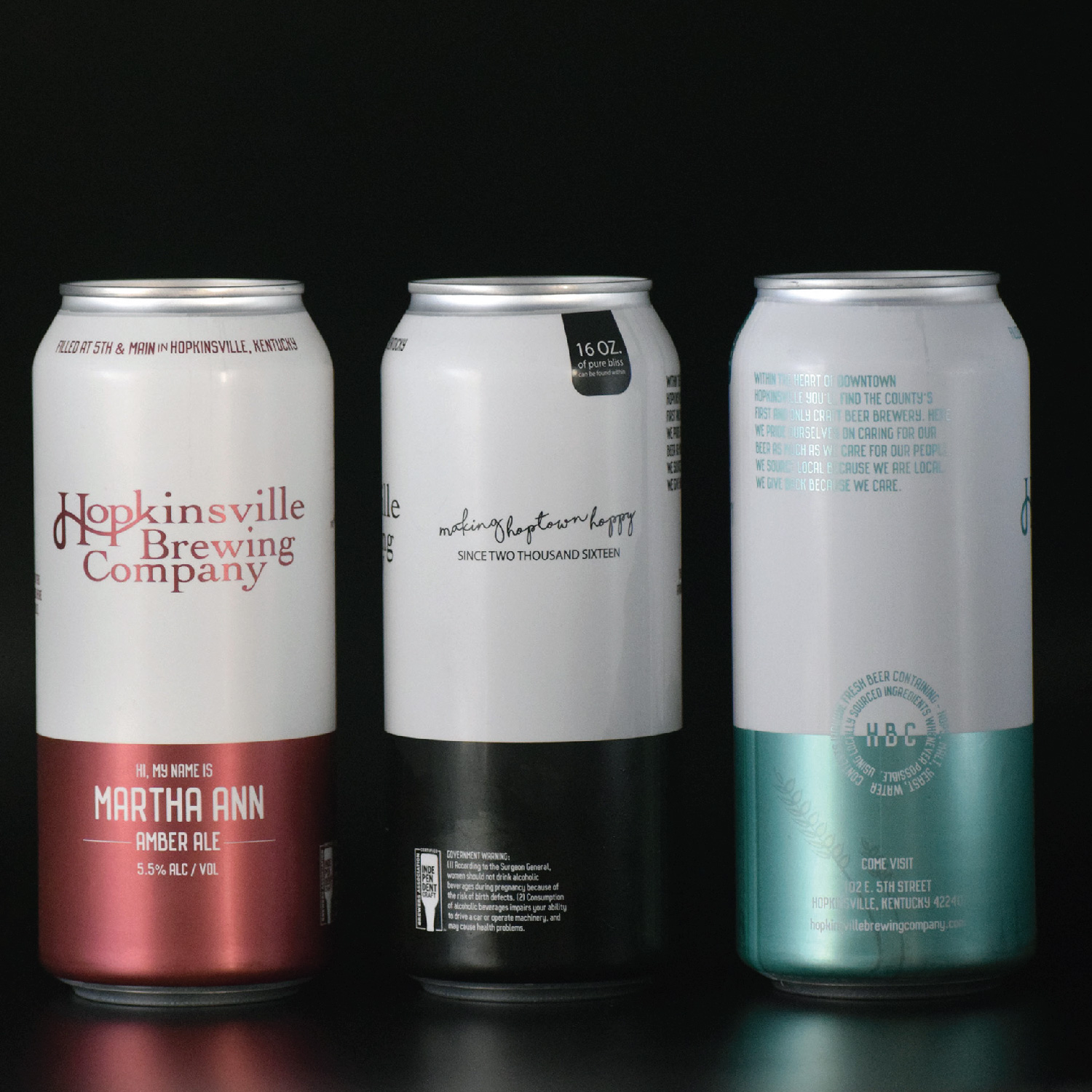 Hopkinsville Brewing Company, Hopkinsville, Kentucky's first and only craft brewery, just launched cans for their most popular brews. Williams Advertising is just two blocks away from Hopkinsville Brewing Company, so you'll find us have the occasional marketing meeting at this downtown spot. ;). You can image our excitement when Kate & Joey decided to can their brews, and then again when we learned we would get to participate in designing the cans they were about to roll out. We haven't designed a logo specifically for the label used on their beer wall machine yet… but hopefully it'll be ready soon!
A few years ago, we designed this crowler label for Hopkinsville Brewing Company. Incorporating that original design as inspiration, but keeping in mind that we now know which of the beers is getting canned, we started designing. Each Hopkinsville Brewing Company beer has a story. It's got history, a tie to Hopkinsville, and in many times it's a tie to downtown Hopkinsville. We knew we needed to craft a minimalist design to go with the vibe & color palette of HBC, but we also knew we wanted to tell the story of who Martha Ann is, or why Atkins gets his own stout.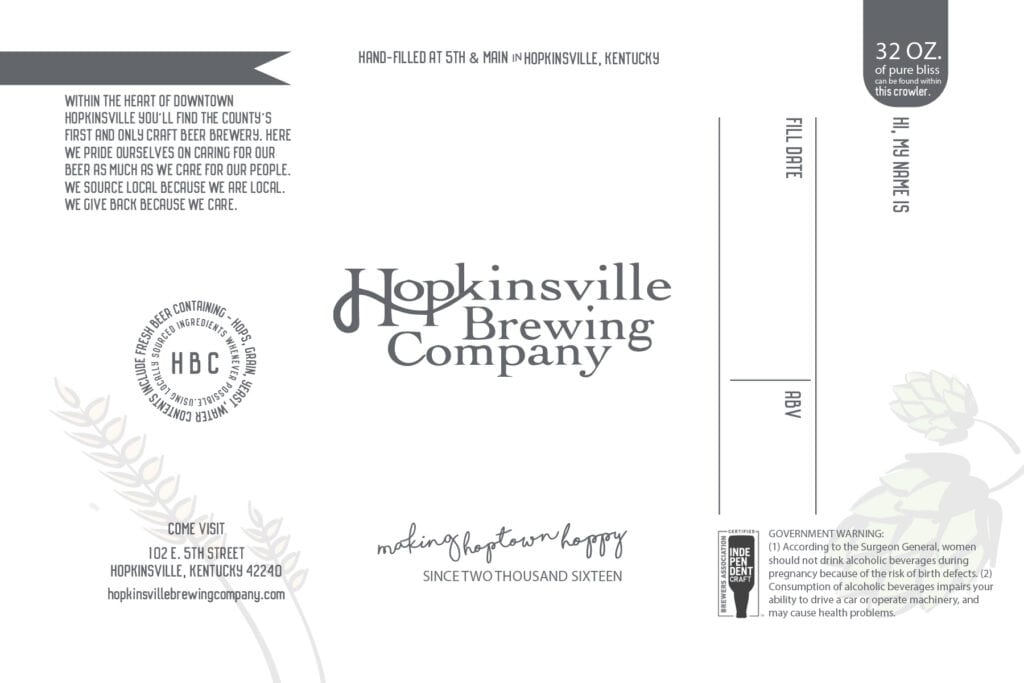 In the original crowler label design, we designed one label for all beers. When you visit the craft brewery, you pick which beer on tap you want to take home in their crowlers; the brewing company crew then puts its name in the "Hi, My Name Is", which was one of the first elements we decided on putting in this crowler can label design.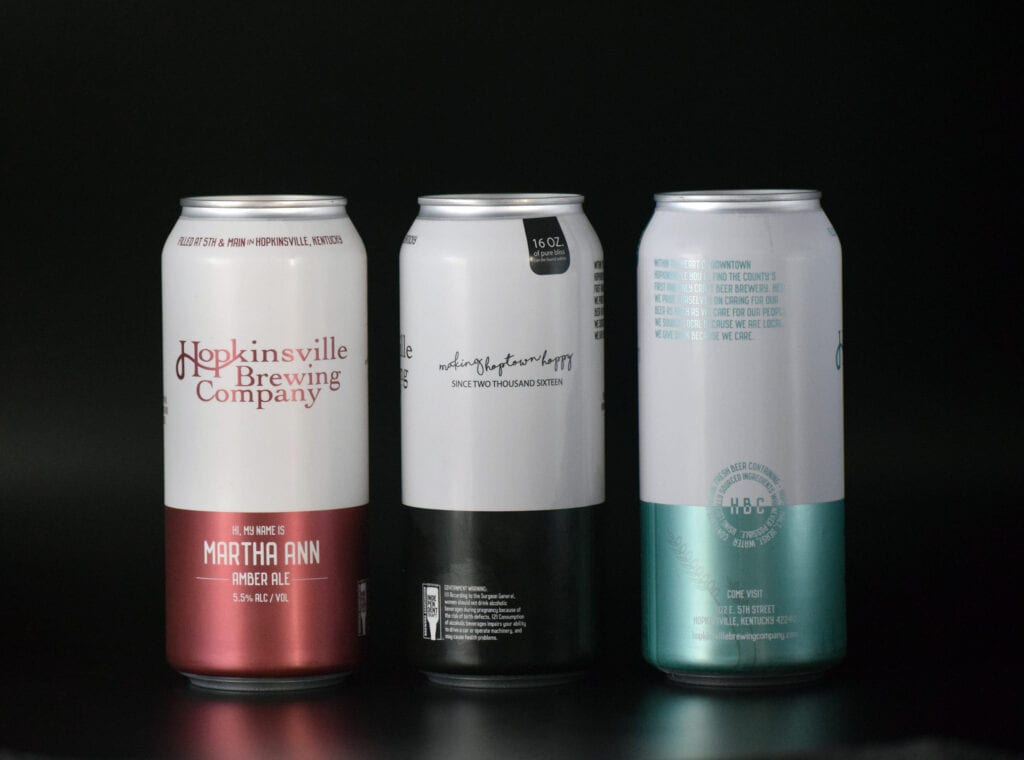 We decided that was just too fun to lose when it came to designing the beer can labels, so each beer keeps the "Hi, My Name Is" before introducing you to its namesake. Flip to the back of the can and learn just what Hopkinsvillian inspired the craft beer you're holding. You'll notice one brew can was designed "TBD" for a seasonal beer. We also had fun with technical details like the amount of beer you'll find within the can.
We took elements from the original Hopkinsville Brewing Company logo to highlight hops, define a color palette for the beer produced now and brews to come, and we incorporated something that we originally created several years ago on a t-shirt design – making Hoptown hoppy – the Hopkinsville Brewing Company tagline.
We are so excited for our friends down on 5th & Main. Go see them, try a flight, and take home your favorite in a new can or in their crowler!