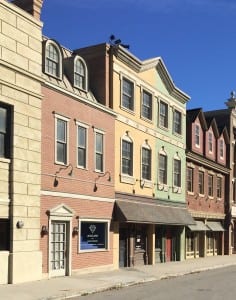 We work with clients every day who are either trying to introduce their business in a small town, or they're trying to keep their business top of mind in a small town.  Those that know examining their marketing strategy is a key component to a successful business in a small town like Hopkinsville, our hometown, and are a step ahead.  These marketing tips for success are for your small business with big goals in an area outside of a major metropolitan.
1.Be the Expert
"Serving you the best marketing advice in all of Kentucky" may be attention-getting, but we would certainly want to back such a statement up with actual expertise in our field of marketing.  In a small town, you're lucky because your business may not be one of many – it may be one of just two or three.  That means too though that your target audience (shared with those competitors) is small enough that it's very important that you establish yourself and your business as the go-to expert in town – and not just develop a tagline.
Let's say the local Chamber of Commerce is holding a conference for entrepreneurs.  Do you offer services that would be of use to business owners?  If so, this might be the perfect opportunity to establish yourself as an expert in your field while helping these entrepreneurs find their way.  Maybe your service or product lends itself to web training.  Put together your own trainings, and upload the videos to YouTube to build your social media following.  Blog or use email marketing and use your expertise for content.  Read this article from Forbes for additional tips.
 2. Get Involved
Continuing on the track of being the expert, what skills do you have that would be helpful to a non-profit in your community?  Join a board or volunteer to give back.  In addition to giving back, this allows you to meet people.  Face to face interaction is a huge part of small town marketing.  To paraphrase from our last blog post, people do business with other people.
And if you're bogged down and can't fit a volunteer opportunity in, how about just getting out and going to that business open house? You are likely to chat up someone new that decides to stop in your store this weekend, or you will remind someone that they meant to call you and check in on that service you had talked about before.
Networking in a small town is a big part of your success.  And your continued networking means continued success!  It's amazing how many people think they "know everyone" and forgo this particular step in local marketing strategy after awhile.  There are always new people in town, there are always new people in new capacities within their companies, and you're always in the market for new business, right?
3. Stay Top of Mind
So let's say now you're a well-known expert who is involved in the community.  The next step to your local marketing strategy is to stay top of mind.  One of the most common misconceptions in marketing is that if you put it out there, they will come (or call. or visit your site. or buy).  Not so much.  If you put it here, here and here, then maybe they will begin to understand that you exist.  Then, the next time they have a need, they may vaguely remember seeing something and google it.
Consider your timing and placement on traditional media.  Consider your targeting capabilities on non-traditional media. Keep your message out for brand awareness, but also realize a coordinated push across multiple channels is most effective.  Let it be that you've spoken at the conference today, tomorrow they hear about you from local radio, and this weekend they see you on social media.  You begin to legitimize your business, and cut through the clutter.  Just make sure you have a web presence when they do search!
Marketing in a smaller town has its benefits and its drawbacks. A bonus for those owning or marketing a business is that it may not take as long to reach your target customer.  A disadvantage may be that your target customer is a long-term loyal customer to your competitor.  An opportunity exists in making sure that your brand and your message are well communicated and available to your community – making it a no brainer to turn to you the next time that customer is in need.