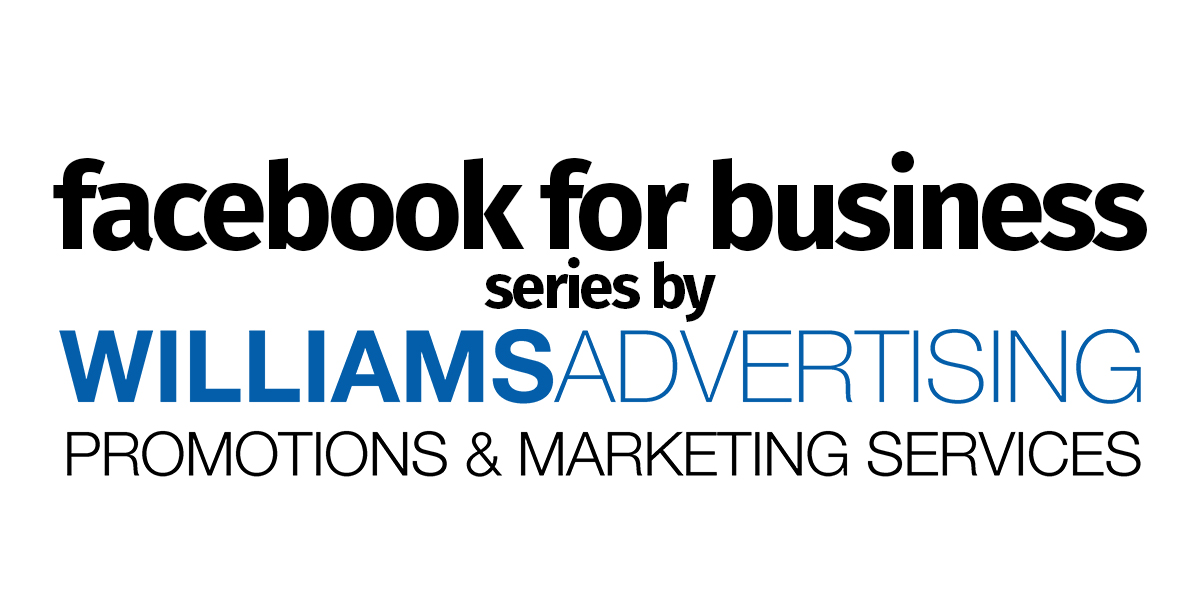 Let's just start by saying if you'd like to go ahead and receive the Facebook for Business Small Business Success Guide up front…
and skip Williams Advertising's Facebook for Business series, shoot an email over to sarah@williamsadco.com. If you'd like to see more of our thoughts from attending Facebook's Boost Your Business event and tips from Facebook for Business, keep reading…
968 million people use Facebook daily, according to Facebook's stats from June. Now, wouldn't we all love it if our business were in a large metro that captured a good percentage of those people, or we had an online presence such that this was our potential customer base? Chances are, you're a small business, maybe a local business, and the entirety of Facebook is not your audience. In comes the importance of targeting.
You don't want to reach all 968 million, nor would you have the product or service to satisfy all of Facebook world. So why waste your advertising dollars on irrelevant customers? We're going to let you pause there for a moment while you recover from the statement "irrelevant customers". Yes, we said it. Not every person is a potential or good customer. In traditional marketing, we didn't have the option to segment that group out. Now with social media marketing, we do. So let's avoid wasting the impressions or the clicks, and let's only target the customers that are interested in a business like yours.
First, say you're a local retail shop. Did you know that local searches have a huge conversion? Now pair that with the fact that on average, Facebook users spend 14 hours per month on the mobile Facebook app. The next time a user is on their mobile device and they're within say, 5 miles of your shop, wouldn't it be nice if there was a way that you could share a picture of your shop's newest inventory with that Facebook user? With targeting you can. Geotargeting a Facebook user's location is a great way for marketers to reach their nearby customers. A slow day in the shop? Post a special offer, target to those nearby, and watch the foot traffic increase. You can even have a call to action of "get directions" with a function inherent to Facebook.
Instead, let's say you're a B2B service organization. You're managing a Facebook for business page that has a very specific audience. Maybe your only customers are those in the human resources profession. Did you know that you can target Facebook ads to those that list certain titles in their Facebook profiles? Couple that with a location target of 25 or 50 miles if you're regionally based, or leave it wide open if you're global, and all of a sudden you're directly reaching your target audience.
There are almost unlimited ways you can target Facebook users, and you can get as complicated as you want with it. Homeowners who make 50K and above that have a college degree who gave a charitable donation to an animal welfare cause and like salad dressing. (We're not kidding, Facebook knows you like your ranch dressing on everything). But if I don't have on my Facebook page that I like ranch, how does Facebook know? Facebook has powerful partnerships with the big credit reporting agencies and others, allowing them to marry up the data from each to your profile. A little alarming? Yes. Good for marketers? Yes. But from the user's point of view? No. Without the users' permission, these websites use the users' data or personal information to send them emails marketing their products. And it's quite dangerous. If a hacker obtains the information, he may be able to decode the bank account details and so on. Not only does Facebook store your data without your knowledge, but so do several other websites. As a result, it is preferable to have a VPN installed in your system or device to secure and encrypt your private data while protecting you from hackers. A VPN may allow you to browse the web anonymously, which means that no one, including your Internet Service Provider, will be able to see what websites you're visiting online. However, before proceeding, you might want to read the reviews of the VPN service provider (like cyberghost review) to ensure that you are comfortable with the services into which you are putting your device.
Maybe you're already boosting your posts and targeting your audience with your like campaigns. Are you taking advantage of the advanced targeting Facebook for business offers with email lists? Simply upload your list of email addresses you've been collecting, and Facebook matches those that have a Facebook account using that email address. Let's say that email list is further broken down in to a loyal customer list and a potential customer list. You can then target an ad for repeat customers versus a new client offer.
This next one may be our favorite. Have you ever wished you could just get more customers like the customers you already have? Target a Facebook ad to "lookalike" customers and you can. Finally, another important tactic for those that already know about your brand, remarketing, retargets your website visitors. Done with a little simple code, you can remind your website visitors about your company while they browse Facebook.
Speaking of which, one of the main things to see is whether your business website complies with the data protection regulations like GDPR, which is mandatory in the EU. Hiring a GDPR consultant would be helpful, and you can research more on Privacy Helper (see their website) or similar data protection consultancies. People should be assured that your website or online business is legit, in all regards.
The main takeaway is you don't have to bombard people that don't care about your business, especially on a personal platform such as Facebook. It's a waste of your ad dollars. Instead, take those ad dollars, use these Facebook for Business tips, and target your message so that it resonates with those that will take action.
Next up in our Facebook for Business series, we'll talk about the importance of the content of that message to ensure success.